Ken took me to see Les Miserables last night – WHAT A CHRISTMAS PRESENT. I am so in love with this movie!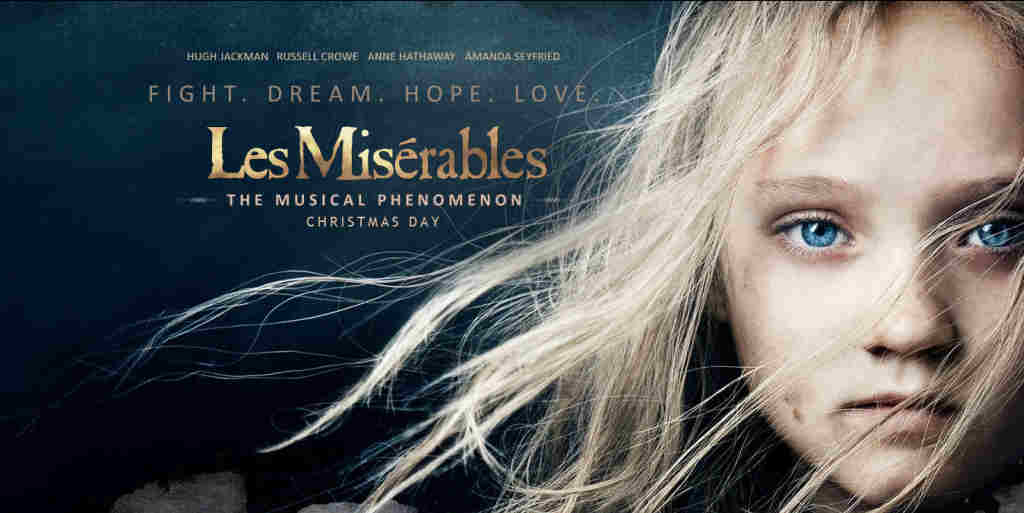 The story is set in the early 1800's in France, where the division between rich and poor is blatant and painful. Jean Valjean is a prisoner – a slave – who, after serving nearly 20 years of hard labor for stealing bread and escape attempts, receives parole from his antagonist, Inspector Javert. Unfortunately, his passport (used in day-to-day life as identification back then) shows that he is a parolee – and no one will give him work or lodging. Homeless and cold, he is taken in by a church – and in desperation, he steals the church's silver. He is promptly caught by the police and brought back to the church.
What happens next is amazing – the priest says, "my brother, in your hurry to leave, you forgot the candlesticks!" He bids the police to leave – and then bids Valjean to use this opportunity to get right with God. He has an amazing encounter with the Lord, repents, and becomes an honest man – yet he breaks parole and begins a new life under an assumed name in another city.
The story weaves through life, death, redemption, adoption, law, grace, grief, joy and demonstrates what can happen when grace is given and sinners are redeemed… and when redemption is rejected.
I will admit, it was a little bit difficult for us at first to get used to the fact that there's virtually no spoken dialogue – the entire movie is songs! It was also a little bit difficult at first because neither of us knew much about that portion of French history (ironically, because we've learned a lot about the Napoleonic period just before this)… but after a few minutes, we were completely drawn into this epic story.
And epic it is – which, I believe, is one reason the story line is so appealing, millions and millions of people world-wide fell in love with first the novel, then the musical, and now the movie. There is a longing within the human heart to love and be loved – to see the face of God – for adoption – for justice and for true justice – and for being a part of something much bigger than us… to play a part in an epic story.
This movie is a must-see.
I'm sure I'll be asked if the movie is appropriate for children, and I'd say it depends a lot on the child and on the parent… there are many themes that will be disturbing to children – poverty, slavery, prostitution, violence, the death of a child, suicide, and more. These things were so disturbing to me and other adults in the theater (even the men) that sobs and gasps could be heard at points. However – because this is an epic story rooted in history, it can be explained to children as such. If properly done, I believe that kids over the age of 10 or so can see it and come away not only unscathed, but with a powerful illustration of grace and redemption, and a real draw to playing their own part in the epic story that we live in.