The Car Wreck, and trip to Maryland
We were sitting at Waffle House a little after midnight. We'd been ministering to a mom and daughter who'd been at the revival service, and were just about to wrap it up and head for our respective hotels when my cell phone rang. It was Kayti.
Tears and hysterics. She'd had a car wreck up in Maryland (where her summer job was), and was pretty sure the car wasn't driveable.
She'd been driving back to her room with 3 of her friends and a guy ran the red light. She's pretty sure that he had no headlights on, because all she saw was shadow. She knew the shadow would hit the side of her car, so she swerved to protect her passenger. It's a good thing she did, because the girl might well have died. She took the impact on the front left bumper of the car. They spun around a few times and ended up banging into a big light pole.
The kids were jolted around a little bit, and pretty shook up – but none of them were injured.
The guy who hit them parked his car and took off on foot. The cops busted him later and he was in jail last I knew. They towed her car off, and a friend came to give them a ride home (THANKS GAVIN!)
About a week before, God showed me that Kayti would be a car accident before she left Maryland. I didn't tell anyone – I just started praying. After she called, I told Ken and he said, "God showed me the same thing! I've been praying for her safety all week!!"
God answered those prayers. The tow truck guy was amazed the kids had escaped injury.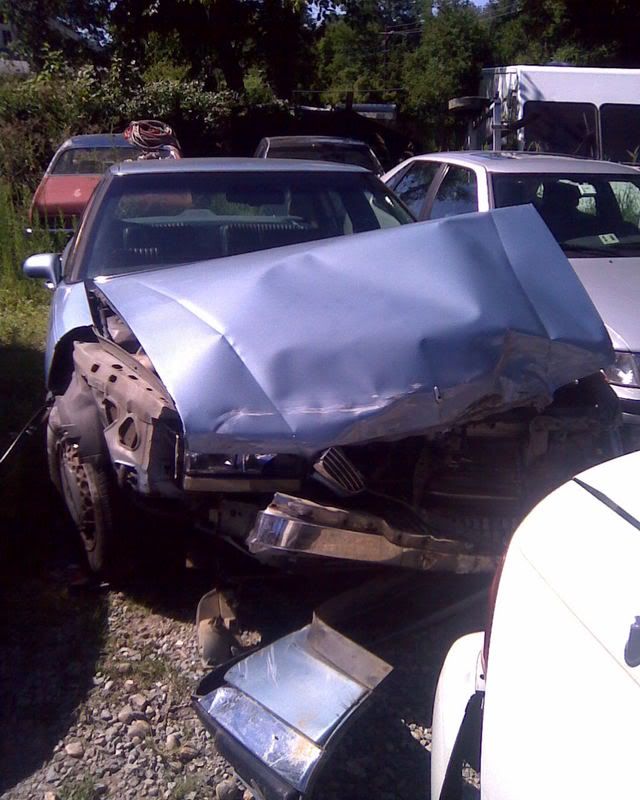 Since her car wasn't driveable, we headed up to MD to get her and all her stuff and bring her home. She was supposed to have left Saturday afternoon to drive home ANYWAY!! At that point we were figuring that the car might be fixable. Kayt went that afternoon to get her stuff out of it (AGAIN – THANKS GAVIN!) and sent us a picture:
I, of course, burst into tears. Ken was pretty close. We got to see the car for ourselves the next morning – it looks far worse in person. The front bumper's gone, the radiator's smashed right into the engine, pieces of the top of the motor, like the emissions canister, are mangled or gone. The airbag deployed and Kayti says at the accident scene there was oil everwhere – so we think the engine block's cracked too.
The tow truck guy told us that the insurance company will likely total it. It makes us mad because although it's an older car, it was in pristine condition. Kayt had just put new tires on it and had some other work done to it. It even got great gas mileage!!
He also told us that by the look of things, the guy had to be travelling a lot faster than the speed limit.
We're still waiting to hear from the policeman who responded to the scene. The cops say we have to wait 10 days for a police report – which includes finding out the guy's name and insurance info. WHAT? She's got to be at school Saturday morning. How's she going to get there??
So, we're praying for God to make a way for a speedy resolution to the whole matter.
We could have gotten a midnight call that our baby had been killed. God heard our prayers and protected her!!
So, we drove from Charlotte Sat AM to Greensboro, and rented a car because we weren't sure the van would make that long of a trip. Drove up to the far side of DC through hours (weeks? years?) of bumper to bumper traffic, and got there so exhausted we decided to get a hotel rather than risk driving home sleepy. So we stayed at the Sleep In in Laurel, MD. If you're ever in the DC area that's the place to say. Nice room, nice indoor pool, nice breakfast, nice people for far less money than any of the other hotels in the area!!!
We drove back Sunday afternoon, after seeing the car (and crying some more). Got in lateish last night and went zzzzzzzzzzz. Still feeling tired and achy from so much riding, but so glad to be home with our daughter safe and sound!!